COMSOL Multiphysics®
La Plataforma para la Simulación y el Modelado basado en las propiedades físicas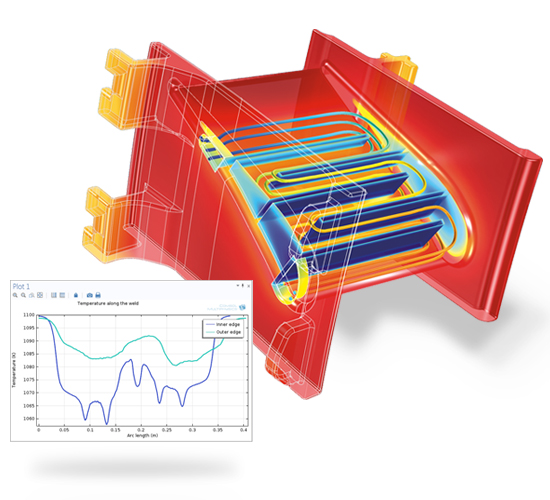 COMSOL Desktop®: A mechanical simulation of a wrench computing the effective stress and deformation.
Simulation of fluid flow and chemical transport in a micromixer. Shown is the fluid velocity field and species concentration.
The COMSOL Desktop is a powerful integrated user interface environment designed for cross-disciplinary product development with a unified workflow for electrical, mechanical, fluid, and chemical applications.
Simulation Tool for Electrical, Mechanical, Fluid Flow, and Chemical Applications
COMSOL Multiphysics® es una plataforma de software de finalidad general, basada en métodos numéricos avanzados, para el modelado y la simulación de problemas basados en propiedades físicas. Con COMSOL Multiphysics, podrá tener en cuenta fenómenos acoplados o multifísicos. Tiene a su disposición más de 30 productos complementarios con los que puede seguir ampliando la plataforma de simulación con interfaces físicas y herramientas específicas para aplicaciones eléctricas, mecánicas, de flujo de fluidos y químicas. Los productos de interfaz adicionales, por su parte, le permiten conectar sus simulaciones de COMSOL Multiphysics con programas de software técnico, CAD o ECAD.
COMSOL Desktop® para el desarrollo de productos en el ámbito multidisciplinar
COMSOL Desktop® es un potente entorno integrado diseñado para el desarrollo de productos en el ámbito de varias disciplinas; proporciona un flujo de trabajo unificado, sea cual sea el área de aplicación. Los módulos complementarios pueden combinarse perfectamente con COMSOL Multiphysics; además, independientemente de los productos complementarios que se conecten, el procedimiento de uso del software no varía. El árbol del modelo del generador de modelos ofrece una perspectiva completa del modelo, además de acceso a todas sus funcionalidades: forma geométrica, malla, configuración de propiedades físicas, condiciones de contorno, estudios, resolvedores, posprocesado y visualizaciones. Con COMSOL Multiphysics, usted puede ampliar fácilmente los modelos convencionales de un tipo de propiedades físicas a modelos de diversos tipos de propiedades físicas, capaces de resolver fenómenos físicos acoplados, y todo al mismo tiempo. Y, por si fuera poco, para acceder a esta poderosa herramienta no hace falta contar con grandes conocimientos de matemáticas ni de análisis numérico.
COMSOL® Puts the Power of Simulation in Your Hands
With COMSOL Multiphysics® FEA software, you can simulate virtually anything you want, thanks to the underlying flexibility that complements the intuitive and easy-to-use COMSOL Desktop® interface.
For instance, in COMSOL Multiphysics®, you are able to arbitrarily include your own equations that may describe a material property, boundary, source or sink term, or even a unique set of partial differential equations (PDEs). You can then create new physics interfaces from the equations you entered. When creating apps with the Application Builder, you can design your own user interfaces based on your models. These user interfaces can be simplified versions of the model or include only some of the input and output fields you want to give the user of the app access to. COMSOL Multiphysics® also includes a COMSOL® API for use with Java® that adds extra flexibility for connecting your COMSOL Multiphysics® models with other applications.