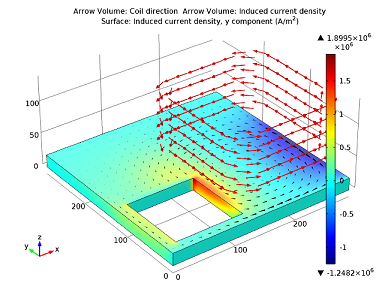 Have you been looking for software that can solve the Testing Electromagnetic Analysis Methods (TEAM) Problem 7? We solved the problem with COMSOL Multiphysics and the AC/DC Module. Here are the results.
Read more
---

When developing models in COMSOL Multiphysics® software, it is common to come across tasks that have to be carried out repeatedly. This three-part blog series will show you how repetitive tasks can be efficiently achieved using model M-files and LiveLink™ for MATLAB®.
Read more
---
We have the pleasure of introducing guest blogger, Mark Yeoman of Continuum Blue, who showcases what they can do for clients in the electromechanical brake field. Electromechanical brakes come in various designs, including single to multiple friction-face systems, power-off and power-on types, and those that include permanent magnets. With so many options, how do engineers make the right design choices for their application? With COMSOL Multiphysics, this can easily be done. Here, I will show you how.
Read more
---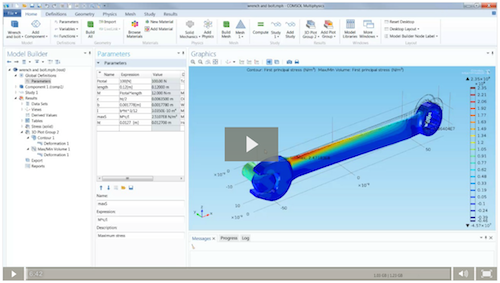 We have made a video tutorial for those of you who want to learn how to model stresses and strains in COMSOL Multiphysics. In under five minutes, we walk you through the modeling steps from setting up parameters and geometry to postprocessing the results. For simplicity's sake, we use a wrench and bolt model to demo the concept.
Read more
---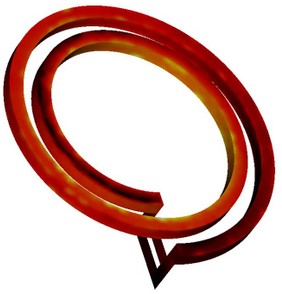 RF coil technology is ubiquitous throughout the world and serves as a major component of technologies, from medical equipment to wireless connectivity. It is important to ensure that the coils contained within these devices transmit information from a source to its destination properly.
Read more
---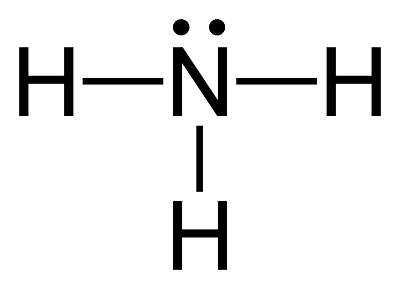 In this final installment of our Chemical Kinetics series, we will look at one of the major chemical syntheses of the modern era. This is a process that every single one of us has benefited from, whether we know it or not: ammonia synthesis. It has become one of the most studied reactions in history, its intricacies and complexities are the subject of several textbooks, and its history is a complex tale of good and evil.
Read more
---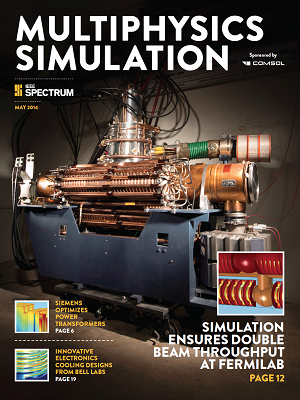 Each year, electrical and electronic engineers and designers share their groundbreaking work in the IEEE Spectrum® insert, Multiphysics Simulation. In this 2014 edition, top tech companies and research institutions, from around the globe, share their simulation stories. We are excited to announce that you can now read and download the magazine on our website!
Read more
---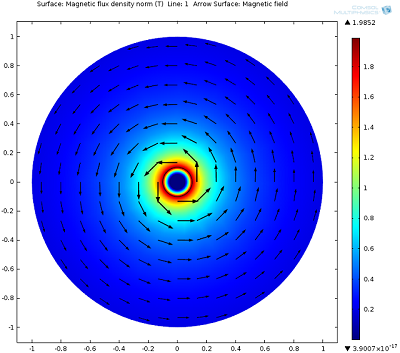 Superconductors are used in applications where high current density and magnetic fields are present — including electric generators, biomagnetic technology, and common products, such as fast digital circuits. Theoretically, an unlimited amount of current can flow through a wire made of a superconducting material. However, what happens to a superconductor as the current density exceeds critical limits? Let's find out.
Read more
---

According to AMPHOS 21, a COMSOL Certified Consultant, one of the proposed solutions to releasing carbon dioxide (CO2) into the atmosphere is to store the CO2 in geological formations, a technique referred to as carbon dioxide sequestration. This notion led the engineers at AMPHOS 21 to study the physical and chemical processes that occur during the injection of the gas into earth's subsurface.
Read more
---

It's no news that accurate mechanical analysis is key to avoiding product failure and manufacturing issues. What may be new is how you do it. Simulation software offers a modern approach to analyzing mechanical component and system designs. Watch this video to learn how COMSOL Multiphysics enables you to speed up time-to-market and optimize product designs.
Read more
---

Engineers simulating fatigue in nonlinear materials are faced with two challenges. You must correctly represent the material behavior with a constitutive relation and find a fatigue model that captures the life-controlling mechanism. Both challenges require a thorough material knowledge. Today, we will address these challenges when modeling thermal fatigue in nonlinear materials.
Read more
---
Get new posts by email
---
Categories
---
Tags