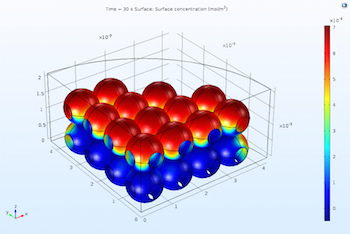 When studying a system's chemical kinetics, it's common to use perfectly mixed batch reactor assumptions and design experiments that keep mixing conditions ideal. Such assumptions include perfectly mixed (ideal tank reactors) and perfectly unmixed (ideal plug flow reactors). In reality, however, it's rare that all of the reactor's parts behave the same way. Space-dependent modeling is thus essential in understanding and optimizing chemical reactors. Let's explore the development of a detailed reactor model, starting with a simple perfectly mixed example.
Read more
---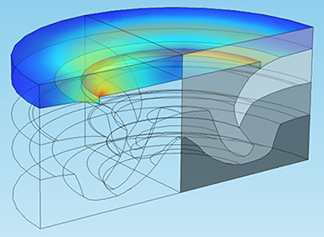 Corrosion is one of the most serious factors affecting the transportation industry. In an effort to minimize its impact, a German research institute and the manufacturers of Mercedes-Benz joined forces to investigate the corrosion occurring in automotive rivets and sheet metal. Using COMSOL Multiphysics simulation, they were able to study corrosion's effects on car components.
Read more
---
Ed Fontes | November 25, 2015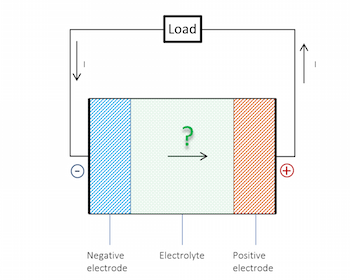 During the discharge of a battery, the current in the circuit flows from the positive to the negative electrode. According to Ohm's law, this means that the current is proportional to the electric field, which says that current flows from a positive to negative electric potential. But what happens inside the battery? Does the current flow from negative to positive electric potential? This blog post explains the potential profile inside a battery during discharge and recharge.
Read more
---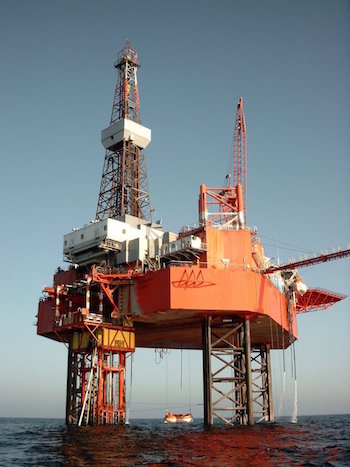 While the offshore oil industry is usually very profitable, it can also be unpredictable, and at times, dangerous. Corrosion in steel oil platforms can lead to damage and failure of the structure, loss of business, and even on-site accidents. Fortunately, there are various ways to investigate and prevent corrosion in these structures to ensure a safe and productive drilling operation.
Read more
---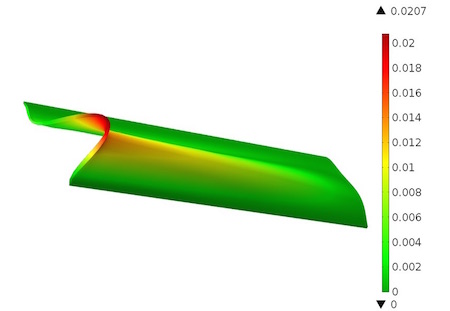 In an operating nuclear reactor, complex and highly coupled physical phenomena occur. Analyzing such phenomena within these devices by conducting physical experiments is often difficult and sometimes impossible. Simulation offers a simplified approach to studying and optimizing nuclear reactor designs, saving time, money, and other resources.
Read more
---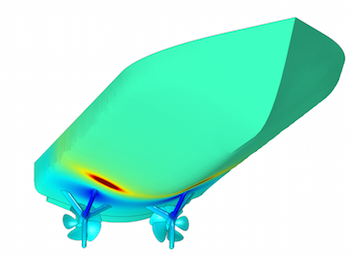 Avoiding corrosion in a harsh ocean environment often requires the use of cathodic protection methods. These utilize different tools, such as sacrificial anodes or impressed currents, to help maritime-based industries stay afloat. One such system, impressed current cathodic protection (ICCP), mitigates corrosion by applying an external current to a ship hull. The efficiency of this method depends on factors such as the use of a coated propeller. Here, we use simulation to investigate how coating a propeller affects ICCP efficiency.
Read more
---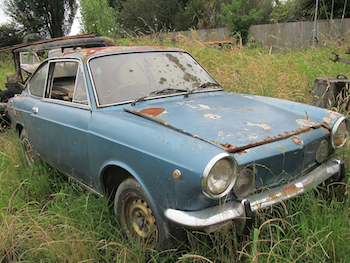 Corrosion is a widely encountered issue in the automotive industry. To account for and prevent this problem, industry leaders often run experiments to test the corrosion resistance of vehicles. Simulation, however, offers a simplified approach to addressing this phenomenon in automobiles — one that saves time, money, and resources.
Read more
---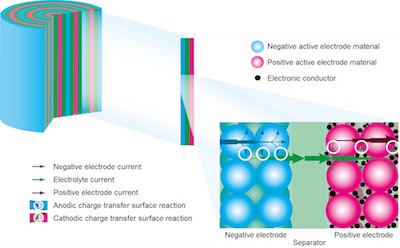 Batteries generally operate through numerous processes that depend on even more parameters. How can you find out more about what's going on within them? One approach is to look at the cell's electrical impedance. The Lithium-Ion Battery Impedance demo app, available in the Application Gallery, can be used to interpret the impedance of a specific lithium-ion battery design with minimal effort. It can also help parameterize the system, a useful step for setting up accurate time-dependent models in the future.
Read more
---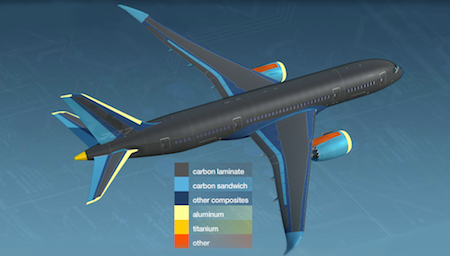 At Boeing, innovation comes in the form of modern aircraft such as the 787 Dreamliner, whose body is made up of over 50% carbon fiber composite. While incredibly lightweight and strong, such aircraft composites are not inherently conductive, thus requiring additional protective coatings to mitigate lightning strike damage. Here, we describe how multiphysics simulation is used to evaluate thermal stress and displacement in the protective coatings that undergo temperature fluctuations associated with the typical flight cycle.
Read more
---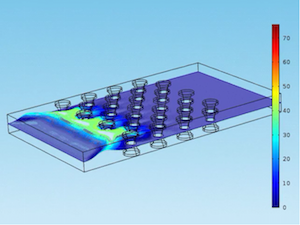 Biosensors are the workhorses of the analytical tools used for detailed mechanistic understanding at the molecular level of biological systems. The applications of these analysis tools are countless for the detection of biomolecules in the pharmaceutical, health care, and food industries; agriculture; environmental technologies; and in general for research of biological systems. The biosensor demo app is a good example of an application where non-experts can benefit from accurate multiphysics simulations.
Read more
---
You might think you're a smooth driver — but your engine probably doesn't. Everyday obstructions like traffic lights and changing speed limits mean that the power demands of a car drivetrain vary rapidly. Since we expect new technologies like hybrid or electric vehicles to match the performance of existing cars in responding instantly to the demands of our right foot, designers need to make sure that this is possible and safe. One part of this involves modeling batteries.
Read more
---
Get new posts by email
---
Categories
---
Tags