AC/DC Module
Simulate Static and Low-Frequency Electromagnetics with the AC/DC Module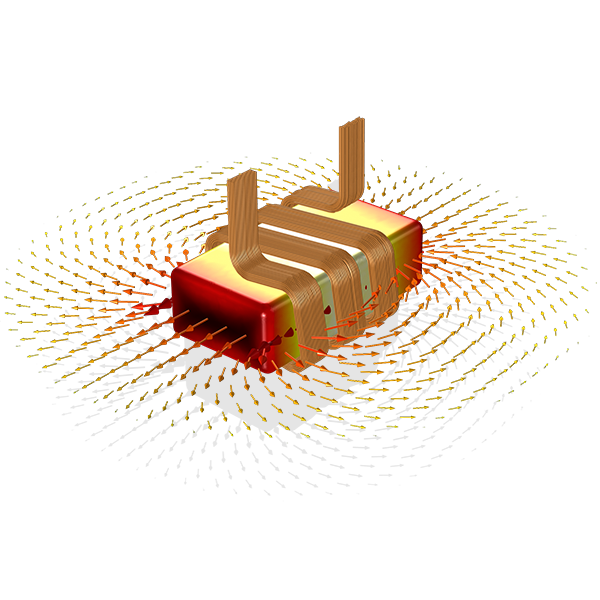 Modelado de condensadores, inductores, aisladores, bobinas, motores y sensores
El Módulo AC/DC se emplea para simular campos eléctricos, magnéticos y electromagnéticos en aplicaciones estáticas y de baja frecuencia. Aplicaciones típicas son los condensadores, los inductores, los aisladores, las bobinas, los motores, los accionadores y los sensores. El módulo ofrece herramientas exclusivas para extraer parámetros tales como la resistencia, la capacidad, la inductancia, la impedancia, la fuerza y el par motor.
Los materiales y las relaciones constituyentes se definen en términos de permitividad, permeabilidad, conductividad y campos remanentes. Está permitido que las propiedades de los materiales sean variables espacialmente, dependientes del tiempo, anisotrópicas, y que tengan pérdidas. Tanto los medios eléctricos como los magnéticos pueden incluir no linealidades, tales como curvas B(H), o incluso describirse mediante ecuaciones implícitamente dadas.
Condiciones de contorno y elementos infinitos
El módulo AC/DC le da acceso a un conjunto de condiciones de contorno esenciales tales como los potenciales eléctrico y magnético, los aislamientos eléctrico y magnético, la carga nula y los valores de campo y de corriente/intensidad. Además, se incluye una gama de condiciones de contorno avanzadas, tales como las condiciones terminales para conectarse a circuitos SPICE, los potenciales flotantes, las condiciones para la simetría y la periodicidad, la impedancia superficial, las corrientes superficiales, la resistencia distribuida, la capacitancia, la impedancia y la resistencia de contacto. Para modelar dominios de modelado de gran tamaño o ilimitados, tiene a su disposición elementos infinitos para campos eléctricos y para campos magnéticos. Cuando se añade una capa de elementos infinitos al exterior de un dominio de modelado de tamaño finito, las ecuaciones de campo se amplían automáticamente. Esto posibilita representar un dominio infinito mediante un modelo de tamaño finito y evita los efectos de truncado artificial de los contornos del modelo.
---
Additional Images:
MOTOR/GENERATOR: These results show a 3D static analysis of the magnetic fields around a rotor and stator. Permanent magnets and nonlinear magnetic materials are included, and material nonlinearity is modeled via an interpolation function.
POWER INDUCTOR: The single-turn coil feature is used to capture the skin effect in the wire, since the skin depth in this coil is comparable to the thickness of the current-carrying wires at the operating frequency. This model shows how to compute both the DC and AC properties of an inductor as well as the admittance and inductance.
PERMANENT MAGNET: This introductory example for magnetic field modeling describes a typical horseshoe magnet and iron bar, where the Symmetry condition is used to reduce the problem size. The magnetic fields and forces are computed.
MAGNETIC DAMPING: This model simulates structural damping on a conducting solid that is vibrating in a static magnetic field. It computes the effect when a cantilever beam is harmonically excited and placed in a strong magnetic field.
MAGNETIC PROSPECTING: Underground iron ore deposits result in magnetic anomalies. This model computes the disturbances in the background magnetic field of the earth due to the presence of an ore deposit. The Reduced Field formulation solves for small perturbations in the background field.
Combinación de circuitos y esquemas con simulaciones en 2D y 3D
Cuando considere sus componentes eléctricos parte de un sistema más grande, el módulo AC/DC le ofrece una interfaz con listas de circuitos SPICE en la que puede elegir elementos de circuito para seguir modelando. Los modelos de sistemas más complejos pueden aprovecharse mediante el empleo del modelado basado en circuitos, en tanto que se mantienen los vínculos con modelos de campo completos para dispositivos clave del circuito, lo que permite innovar y optimizar el diseño en ambos niveles. El módulo ECAD Import permite importar esquemas electrónicos para analizarlos con el Módulo AC/DC. La simulación de dichos esquemas no se circunscribe a los esquemas electromagnéticos.
Conexión con CAD, MATLAB® y Excel®
Con el fin de facilitarle el análisis de las propiedades electromagnéticas de modelos CAD mecánicos, COMSOL pone a su disposición el módulo ECAD Import, el módulo CAD Import y los productos LiveLink™ para los sistemas CAD más punteros, como parte de nuestra familia de productos. Los productos LiveLink posibilitan mantener intacto el modelo CAD paramétrico en su entorno nativo, pero controlando las dimensiones geométricas desde COMSOL Multiphysics®, así como producir barridos paramétricos simultáneos para varios parámetros de modelo. Para tareas repetitivas de modelado, LiveLink™ for MATLAB® le permite realizar simulaciones COMSOL® con scripts o funciones MATLAB®. También puede accederse, mediante comandos MATLAB, a cualquier operación que esté disponible en COMSOL Desktop®. Además, usted puede fusionar comandos de COMSOL, en el entorno MATLAB, con su código MATLAB ya existente. Para simulaciones electromagnéticas realizadas desde hojas de cálculo, LiveLink™ for Excel® ofrece una cómoda alternativa al modelado desde COMSOL Desktop, con la sincronización de los datos de la hoja de cálculo con los parámetros definidos en el entorno COMSOL.
Base de datos de materiales magnéticos no lineales
En el módulo AC/DC se incluye una base de datos de 165 materiales ferromagnéticos y ferrimagnéticos. La base de datos contiene curvas BH y curvas HB, que permiten utilizar las propiedades de los materiales en las formulaciones de campos magnéticos. Los datos de curva cuentan con muchas muestras, y se han procesado para eliminar efectos de histéresis. Fuera del intervalo de los datos experimentales, se utiliza la extrapolación lineal para una máxima estabilidad numérica.
Tenga en cuenta múltiples propiedades físicas a la hora de realizar sus diseños
Aunque los dispositivos se pueden caracterizar principalmente por el electromagnetismo, también se ven afectados por otros tipos de fenómenos físicos. Por ejemplo, los efectos térmicos pueden cambiar las propiedades eléctricas de un material. Por otra parte, durante cualquier proceso de diseño de generadores es necesario entender completamente las deflexiones y vibraciones electromecánicas que tienen lugar en los mismos. Al estar plenamente integrado en el entorno COMSOL, el módulo AC/DC permite que una amplia gama de efectos físicos influyan sobre el modelo virtual.
Envolventes electromagnéticas
Para estructuras muy delgadas, el módulo AC/DC ofrece una gama de formulaciones especializadas para realizar simulaciones electromagnéticas eficientes en las que no es necesario representar el grosor de las estructuras como un grosor físico en el modelo geométrico, sino que puede representarse mediante una envolvente. Dichas formulaciones de envolvente fina están disponibles para obtener simulaciones de corrientes continuas, electrostática, magnetostática e inducción, y son particularmente importantes para el blindaje electromagnético en aplicaciones de compatibilidad electromagnética (EMC) y de interferencia electromagnética (EMI).
Flujo de trabajo uniforme para el modelado electromagnético
El sencillo flujo de trabajo del módulo consta de los siguientes pasos: definir la geometría, seleccionar los materiales, seleccionar una interfaz CC/CC adecuada, definir las condiciones iniciales y de contorno, crear automáticamente la malla de elementos finitos, resolver, y visualizar los resultados. Se accede a todos estos pasos desde COMSOL Desktop®. Las simulaciones del módulo AC/DC pueden conectarse con todos los productos COMSOL, prácticamente de cualquier manera imaginable, mediante una serie de conexiones a propiedades físicas múltiples preestablecidas o a través de conexiones definidas por el usuario. Una conexión preestablecida típica es la existente entre el módulo AC/DC y el módulo Particle Tracing, caso en el que el campo eléctrico o magnético afecta a las partículas cargadas, a las que se les puede asignar una masa o la ausencia de masa. El módulo Optimization puede combinarse con el módulo AC/DC para realizar una optimización con respecto a la excitación de corriente y voltaje, a las propiedades de los materiales, a las dimensiones geométricas, etc.
Flexible y robusto
El módulo AC/DC incluye campos eléctricos y magnéticos estacionarios y dinámicos, tanto en 2D como en 3D. El módulo AC/DC formula y resuelve de manera detallada las ecuaciones de Maxwell, así como las propiedades de los materiales y las condiciones de contorno. Las ecuaciones se resuelven por el método de los elementos finitos, con una discretización de los elementos de borde numéricamente estable en combinación con solucionadores de última generación. Las distintas formulaciones admiten simulaciones estáticas en el dominio de frecuencia y en el dominio de tiempo. Los resultados se presentan en la ventana gráfica mediante gráficos predeterminados de campos, intensidades y voltajes eléctricos y magnéticos, o como expresiones de cantidades físicas que usted puede definir libremente, así como en forma de cantidades tabuladas derivadas.
Product Features
Biocalor * Extracción de parámetros de circuito (matrices R, L, Z) * Simulaciones combinadas de campos y circuitos SPICE * Resistencia de contacto * Distribución y visualización de corriente y de campo
Campo de desplazamiento eléctrico y tensión dieléctrica * Fuerza y par electromagnéticos * Blindaje electromagnético * Deformación electromecánica * Calentamiento por inducción
Cálculo de la fuerza de Lorentz * Materiales no lineales, incluidas las curvas B(H) * Capacitancia e inductancia parásitas * Materiales porosos * Calentamiento resistivo
---
Application Areas
Bobinas y solenoides * Soldaduras eléctricas * Aislamiento eléctrico * Compatibilidad electromagnética (EMC) * Interferencia electromagnética (EMI) * Blindaje electromagnético
Maquinaria electromagnética * Fiabilidad de la electrónica, y electromigración * Hornos de inducción * Diagrafía por inducción * Aisladores, condensadores y dieléctricos
Motores, generadores y otras máquinas electromecánicas * Electroimanes e imanes permanentes * Émbolos * Sensores * Transformadores e inductores
---
Formatos de archivo admitidos
| File Format | Extension | Import | Export |
| --- | --- | --- | --- |
| SPICE Circuit Netlist | .cir | Yes | Yes |
| Touchstone | .s2p, .s3p, .s4p, ... | No | Yes |
Next Step:
Request a Software
Demonstration
Every business and every simulation need is different. In order to fully evaluate whether or not the COMSOL Multiphysics® software will meet your requirements, you need to contact us. By talking to one of our sales representatives, you will get personalized recommendations and fully documented examples to help you get the most out of your evaluation and guide you to choose the best license option to suit your needs.
Just click on the "Contact COMSOL" button, fill in your contact details and any specific comments or questions, and submit. You will receive a response from a sales representative within one business day.